AquaMaster's Third Party Certifications
AquaMaster's Third Party Certifications
Hits 5603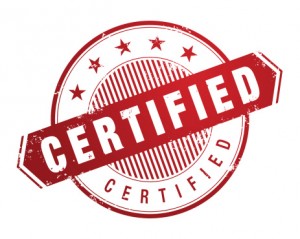 At AquaMaster, we know how important it is to hold third-party certifications. Not only do they guarantee the quality and high-standards of our products, but they also do so in a non-biased way. We are proud to have certifications from the Better Business Bureau (BBB) and National Sanitation Foundation (NSF). AquaMaster is also a member of the Canadian Water Quality Association, an organization committed to water quality improvement of drinking water and working water for homes, businesses, industry and institutions.
Better Business Bureau (BBB) Code of Business Practices (A+ Rating)
AquaMaster is proud to have received an A+ Rating from the BBB for its Code of Business Practices. The code is based on eight principles outlining the important elements of creating and maintaining trust in business.
Build Trust: Establish and maintain a positive track record in the marketplace.
Advertise Honestly: Adhere to established standards of advertising and selling.
Tell the Truth: Honestly represent products and services, including clear and adequate disclosures of all material terms.
Be Transparent: Openly identify the nature, location and ownership of the business, and clearly disclose all policies, guarantees and procedures that bear on a customer's decision to buy.
Honour Promises: Abide by all written agreements and verbal representations.
Be Responsive: Address marketplace disputes quickly, professionally and in good faith.
Safeguard Privacy: Protect any data collected against mishandling and fraud, collect personal information only as needed, respect the preferences of customers regarding the use of their information.
Embody Integrity: Approach all business dealings, marketplace transactions and commitments with integrity.
National Sanitation Foundation (NSF) Certification
The NSF is a not-for-profit, non-governmental organization committed to public health and safety. When a product bears the NSF mark, it means that the product has been inspected and complies with the standard requirements set by the organization. In order to maintain an NSF certification, manufacturing facilities must pass regular on-site inspections by the NSF. These inspections help ensure NSF certified facilities are continuing to meet the high standards required to maintain certification over time.
In addition, all AquaMaster water softeners adhere to the NSF/ANSI (American National Standards Instutite) 44 standard, which has the following efficiency requirements:
Salt Efficiency: At least 3,350 grains of capacity per pound of regeneration salt
Water Efficiency: At least 1,000 grains of capacity per 5 gallons of regeneration water
Member of the Canadian Water Quality Association
The CWQA is a not-for-profit organization focused on improving water quality for homes, businesses, industry and institutions. The organization is also committed to protecting the environment and water conservation through various initiatives. CWQA supports water professional members with training programs and certification. With a code of ethics, CWQA is dedicated to promoting the highest principles of honesty, integrity, fair dealing and professionalism in the water quality improvement industry.
We are proud to offer water softeners and water drinking systems that you can rely on to provide you with clean, quality drinking water. For more information about AquaMaster's third-party certifications, visit us online at http://www.aquamaster.ca/, where you can browse through our products, learn about their benefits and check out our blog!