Products

Drinking Water Systems
Drinking Water Systems
The most user friendly drinking water systems ever design. All AquaMaster include a built-in shut off valve and encapsulated quick change filters.
AquaMaster drinking water system use NSF certified components.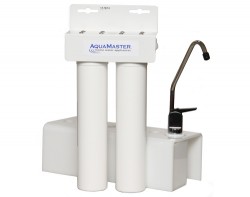 This system reduces lead, tastes, odors and chlorine by 99% and filters out 99.99% of micro-organisms.
2-stage filtration. A 5-micron sediment filter removes particles 15 times smaller than a grain of sand. In addition, this system reduces lead, tastes, odors and chlorine by 99% and filters out 99.99% of micro-organisms, such as cryptosporidium and giardia cysts.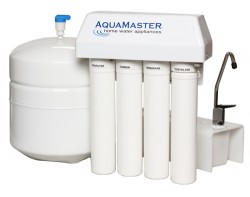 Advanced 4-stage reverse-osmosis technology. A premium, long lasting, high capacity reverse-osmosis membrane offers the finest purification available - even when it comes to harmful nitrates. Reverse Osmosis at the forefront of filtration technology. Reverse Osmosis (RO) systems use pressure to force water through a semi-permeable membrane, allowing only the water molecules to flow through. It is the most effective treatment available.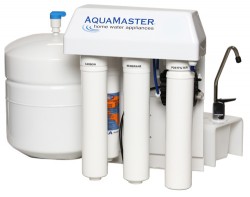 Same advanced 4-stage reverse-osmosis technology as the AMR4000 with the added benefits of a permeate pump that regulates production of treated water to keep the rejection water the minimum level. Water production and rejection rates vary based on water temperature, pressure and the level of total dissolved solids in the water. In our cold climate, a permeate pump effectively neutralize the effect of colder water keeping the rejection rate constant and at its optimum level.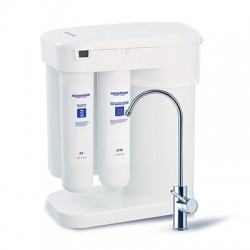 Remineralized clean water.Aquaphor RO-101 purifies and enriches your water with healthy minerals, such as calcium, magnesium and potassium which improve its taste and are beneficial to your health.
A truly superior water purification system. Years of research by Aquaphor has led to the development of water-on-water technology. This innovative system boasts high performance, treats watetr more efficiently, and has a more compact design than traditional reverse osmosis water system, so it takes less space in your kitchen! Designer lead-free faucet included.
There is much more to say about the Aquaphor RO-101...